"To follow God's call."  –Mindy Thompson
Mindy is an extraordinary woman.  She is a former marine, (Fewer! Prouder!) a talented musician and superb soprano vocalist and also the single mother of three boys.
As the former office manager at First Presbyterian Church of Allegan, she has heard God's call on her life to be a pastor.  She is now a student at Western Theological Seminary. –While being a single mom of three and going to Seminary full time would be hard enough for anyone, now she is facing some life changing health issues which would discourage any of us.  Yet despite all of this, she is determined that her purpose in life is to follow God's call.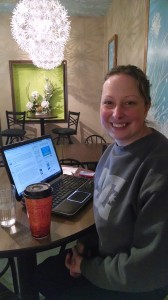 Mindy and I met this morning at Mug Shots Coffee Shop in Allegan, Michigan before she headed to Holland for her Church History class.  Then I got busy with church work all day and forgot to post this until my husband Bill asked me about it right before heading to bed. My Lenten Experience Experiment continues, better late than never.