"To have a healthy baby." –Donna Evans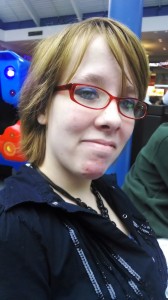 Donna Evans spent most of her high school years at Allegan High School.  But as a Junior, she left Allegan to finish the school year at Fennville High.  Her plans were to continue on there and to graduate from Fennville the next year, but her father got sick with renal cancer and died during her Senior year.  With no one able to give her a ride to her school of choice,  Donna is still a couple of months short of earning her High School diploma.
Today, Donna is a 20 year old single mom-to-be.  Very recently she discovered that she is pregnant and she moved back in with her mother.
This however is not stopping her from her plans to finish her high school education.  She is in the process of enrolling in Job Corps in Grand Rapids.  After earning her diploma and getting some vocational training at Job Corps, Donna hopes to find a good job and an apartment to be able to provide for herself, her mother and her baby.