"To have a family."  –21 year old server at a Grandville Restaurant.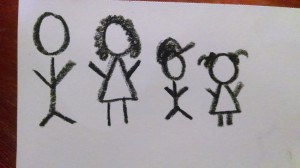 On Tuesday night, while Bill was out of town for work, Elisa and I decided to go out for dinner.  Our server was hilarious.
Before we had even gotten our drinks, he had us laughing. When I asked him if he wanted to be on my blog and gave him the question, he immediately turned serious.  He said, "You won't believe this, but I was just talking about that with my friend."  A bit later during the meal he had time enough to pause to answer the question. His answer was simple.  It was to have a family.  He explained further.  " I didn't have much of a family growing up. So I want to have a family.  To find someone, hold onto them, settle down and have a family."  He said more about how he liked to talk to his customers, particularly the older ones and how they all say that what they treasure most is their families.  He said he didn't care how much he would need to work to support his family, it was what he wanted to do with his life.
Currently this young fellow is in college, working part time and living at home to save money.  He sometimes goes out with a particular girl as a friend, but he would like the relationship to become even more than just friends.  But to protect his identity, he didn't want me to take his picture or to use his name online.  So as a compromise, he asked the hostess draw this picture.  I think that is one rather special hostess…