Cultural Changes and the Church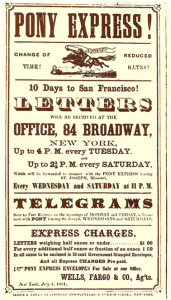 The idea for the Pony Express came out of necessity. California had experienced a gold rush, they were part of the still growing union of states and the population living there needed to be able to have fast reliable communication with the rest of the country back east. To that end, the Central Overland  California and Pikes Peak Express Company established a mail relay system. The system was a series of stations which had fresh horses. The goal was to build the stations no more than 10 miles apart, the distance a horse could run at top speed without needing to rest. The system was elaborate. There were swing stations which only had fresh horses, and home stations in which the riders could rest after riding 75 miles in a day. The riders were young men, no older than 18, no more than 125 lbs, who had the courage to ride at full speed through all of the dangers along the trail. About 187 stations were built and over 400 horses were purchased for the project. The horses along with the 120 riders and several hundred personnel worked together to deliver mail across the western wilderness in four days. The Pony Express was an organizational and operational success!
 However the system that started its operation on April 3rd 1860, closed its   operations on  October 26, 1861, two days after the transcontinental telegraph reached Sacramento, CA. Even though the Pony Express system had done nothing wrong, something new came along and made what they were doing obsolete.
In the church, we also can have traditions and practices which may no longer serve us well. For example, the practice of a bride walking down an aisle runner in the sanctuary was once something that was done out of necessity. In the eras when most streets were unpaved and churches were un carpeted, the guests coming to the wedding would track mud into the church on their boots and shoes. By the time that the bride was to walk down the center aisle, the route could be filled with dirt which would leave unsightly streaks on a wedding dress and possibly ruin it for any future daughter to potentially use. To protect the bride's dress and train, an aisle runner was put down for the bride to walk on. Over the years, the reason for the aisle runner was forgotten, and still today, brides will often pay for them and incorporate this expensive item into their wedding plans; even though their original purpose has in many cases become obsolete.
As culture changes around us, as good stewards of God's time and resources, we as a church must constantly ask ourselves if the way that we are doing things is still in step with the way that things work today.  Are we really meeting a need with what we are doing?  Or are we just feeding the horses in our own version of a Pony Express?